Fact Checked
Fever blisters or cold sores are caused by the herpes simplex type 1 virus. It develops in the mouth, nose and chin and heals within 2-3 weeks. Fever blisters are lifelong irritants since the virus is dormant in the body throughout life. The infection can last for 7-10 days.
Fever blisters can be caused by overexposure to sunlight, hormonal changes, stress, and trauma to the skin or a weak immune system. The blisters can be painful with tingling and burning sensation with inflammation and swelling of the area. They form clusters of small white blisters and develop on the area where the virus is activated. Treatment for fever blisters among children is the same for adults but toddlers have low tolerance for pain.
Symptoms of fever blisters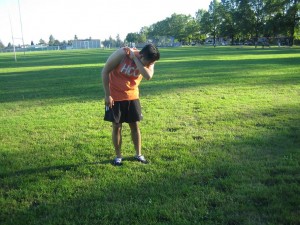 Pain, burning or itching of the affected area
A group of vesicles which are small blisters filled with fluid that develops on the red area of the skin.
Vesicles form crust on the blisters
Mild fever and swollen glands in the neck
Treatment
Apply a cold compress on the forehead of the child to lessen the swelling and redness. It also prevents the infection from spreading.
Take over-the-counter pain medications that contain acetaminophen.
Apply ice packs on the blisters. Move the ice around the affected area for at least 10-15 minutes at a time for 3-4 hours. Another option is soaking a cloth in cool water, wring out excess water and then place it on the sore to lessen the pain.
Apply the prescribed over-the-counter blister ointment that contains numbing agents to lessen the pain and discomfort.
Apply sunblock to prevent the outbreak of blisters on the face. Apply lip balm with SPF 15 or higher.
Toothpaste contains ingredients such as baking soda, hydrogen peroxide, menthol and alcohol that dries the blisters fast. It has sodium lauryl sulfate that minimizes the size of the blisters in 2 days. Apply a small amount of toothpaste on the blisters and leave it overnight for 2 hours. Rinse it off using a damp cloth and apply petroleum jelly. Repeat this treatment every day until the blisters are totally healed. Another option is mix a teaspoon of white toothpaste and ½ teaspoon salt. Use a cotton swab and apply the paste on the affected area before going to bed. Leave the paste on the affected area overnight and rinse using lukewarm water the next morning. Repeat this procedure every day as needed. Avoid using colored, whitening or gel toothpaste.
Open an aloe vera leaf and extract the gel. Apply the gel on the blisters using the fingertips and let it dry on its own. Rinse it using lukewarm water and dry it with a towel. Repeat this treatment several times every day for 3-4 days. Aloe vera has antibacterial properties that disinfects the infected area, lessens the pain and inflammation for fast healing of the blisters.