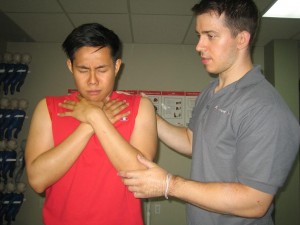 The most popular Saskatchewan workplace-approved first aid and CPR course is standard first aid. This two-day course is required for many individuals including construction workers, miners, oil and gas workers, police officers, fire-fighters, security guards, CBSA officers, nurses, doctors, medical school students, caregivers, childcare workers, and teachers, and many more. Individuals. Individuals enrolled in this 16-hour course will learn about CPR, how to use an AED, circulatory emergencies, breathing emergencies, sudden medical emergencies, and environmental emergencies. The largest and lowest-priced provider of standard first aid training on Vancouver Island is Victoria First Aid. This experienced provider offers a wide range of courses and services including first aid supplies, emergency response consulting, online training, and first aid attendee rentals. Customers can visit the Victoria First Aid website for a full list of available courses, and schedules   Contact information for this supplier is also available below.
Contact Information
To contact this provider about the many services and courses available to you or your business use the following details:
Website: www.firstaidcprvictoria.ca
Telephone: 1-888-870-7002 (Toll Free)
Email: [email protected]
The call center is open during regular business hours to help with your requests, registration, or concerns.
Choose Victoria First Aid because…
Nobody can beat the low prices provided by this popular standard first aid and occupational first aid course provider.
Great training facilities with comfortable and clean classrooms
Fun, professional, and knowledgeable instructors that teach using a variety of styles to cater to your learning methods
WorkSafe BC certification courses are available including OFA level 1
Certification is provided at the end of the class and is valid throughout Canada for 3 years
Re-certification courses are available for participants with current awards that are looking to renew
Free parking is available
Registration is available by telephone, email, online chat, online website, or in-person at the facility
Private courses are available for groups, businesses, and companies of any size
A number of different courses are available including food safe level 1, babysitting first aid, childcare first aid, and on-line WHMIS training
Standards and techniques conform to the latest International Liaison Committee on Resuscitation (ILCOR) and American Heart Association (AHA) standards
Take a course with Victoria First Aid and learn the latest techniques and skills in emergency management.
CPR/AED training video
Did You Know?
Trainees are introduced to the latest Basic Life Support (BLS) guidelines by the American Heart Association. The 2010 BLS guidelines highlight the changes in techniques and pathways used during the rescue of a victim with cardiac arrest. Chest compressions are not immediately started after the collapse, after calling for help. Assessing airway and breathing is done after the first cycle of compressions is finished. This is due to recent studies that show an increase in survival rate with chest compressions started within the first 3-5 minutes after collapse.
Victoria First Aid is dedicated to providing trainees with the best learning experience with highly qualified instructors. Choose a training course and enroll today!