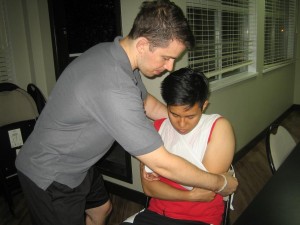 Ottawa First Aid, in partnership with St Mark James, offers prospective trainees the largest selection of first aid, cardiopulmonary resuscitation (CPR), and automated external defibrillation (AED) training in Ottawa. Courses are WSIB approved and meet workplace requirements. The most popular WSIB courses include standard, emergency and childcare first aid. Certification and refresher / re-certification courses are available at the lowest rates in the area with courses being offered as low as 39.99 for stand-alone CPR and AED programs. Participants will learn the latest CPR techniques as provided and recommended by the International Liaison Commitee on Resuscitation (ILCOR) and the American Heart Association (AHA). This provider proudly serves the Ottawa region with life saving courses in comfortable facilities at the lowest prices. Learn to save a life by enrolling in standard first aid and CPR training in Ottawa with Ottawa First Aid.
Enrolment and Registration
To complete your enrolment and registration for a training course with Ottawa First Aid click here. A complete list of classes and schedules are available on the Ottawa First Aid website. Telephone calls, e-mails, and walk-ins at the training center are also highly encouraged by the customer service staff. Use the following contact information to register for a course:
Website Address: http://firstaidcprottawa.ca/first-aid-courses/standard-first-aid-courses/
Email: [email protected]
On-line registration is available at all times and all other registration methods are available only during regular business hours.
Reasons to enrol at Ottawa First Aid
This provider offers multiple methods of registration including on-line, via telephone, in person or email. This provider attempts to make the process of registering and attending a course as easy as possible. 

Ottawa First Aid offers the largest selection of first aid, CPR, and AED training courses. 

This provider also offers a large number of courses throughout the week including weekends. 

Ottawa First Aid training courses are offered at the most competitive rates in Ottawa. Rates are inclusive of taxes, certificates, workplace approved registration fees, and training manuals and equipment. Course prices start as low as 48.88 for stand-alone CPR programs.

Certificates provided to successful participants meet WSIB standards for the workplace. 

Re-certification courses are available for a number of courses including standard first aid and CPR level 'HCP'.

Training centers are equipped with the latest mannequins and AED trainers. Classrooms are spacious and well-maintained.The centers are easily accessible by public transport, with amenities such as restaurants and free parking within walking distance. 

All of the instructors at Ottawa First Aid are certified, experienced and able to provide WSIB approved classes. 

This provider strives to make the process of learning first aid and CPR as enjoyable and practical as possible. Learn to save a life today.
First Aid and CPR/AED training courses
Standard first aid is the most popular course offered with this provider. It is a two day course that teaches participants about a variety of first aid topics including burns, seizures, poisons, heart attacks, choking, hypothermia, heat exhaustion, broken bones, internal bleeding, external bleeding, concussions, head injuries, spinals and many more. CPR and AED training are included in the program. Other available programs with this provider include emergency and childcare first aid.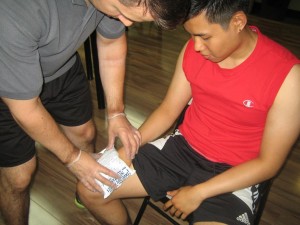 Did You Know?
Heart attack and cardiogenic shock
A deadly complication of heart attack and failure is cardiogenic shock. During a heart attack, there is poor supply of blood to the heart muscle causing it die and lose function. When the heart muscle can't pump enough blood, a condition known as cardiogenic shock occurs. Shock happens when there is low circulating blood volume leading to poor perfusion of the organs in the body. This is a dangerous condition commonly characterized by difficulty breathing, fatigue, chest pain, cool extremities, pallor, and weak, rapid pulse.
Enrol in a training course with Ottawa First Aid today!