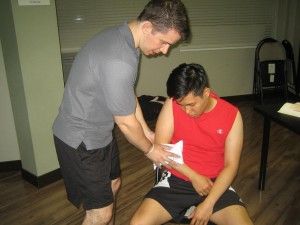 Very few courses meet Saskatchewan workplace first aid and CPR requirements. The most popular course in Saskatoon is standard first aid because it meets provincial workplace requirements. This course includes cardiopulmonary resuscitation (CPR) and automated external defibrillator (AED) training. The most popular provider of workplace, Saskatchewan and academic approved training in Saskatoon is Saskatoon First Aid. This provider also offers emergency and childcare first aid. Participants that want CPR "only" training can enrol in three different level of training. This provider also offers food handling certification, pet first aid, babysitting and on-line safety training courses. To register for any of the above mentioned courses or a re-certification class use the contact information provided below.
Enrol for First Aid, CPR, AED and Safety Training Here
The Saskatoon First Aid website has the complete list of offered courses and class schedules. You can also register for a course by using the following contact details:
Telephone Number: 1-888-870-7002 (Toll Free)
Email: [email protected]
Website: www.firstaidsaskatoon.ca
Friendly customer service staff are available from 7 am to 6 pm to help with registration or answer questions. The website also has a live chat option.
Why Register With Saskatoon First Aid?
Saskatoon First Aid is the most popular provider in Saskatchewan because of the following reasons:
Teachers are experienced, friendly, professional and knowledgeable
Registration is quick and easy
This provider has the most competitive / lowest prices in the province
Private courses and re-certifications are available
Classrooms are clean, conveniently located and well-maintained
100% refunds and transfers are accepted as long as they are not within 72 hours of the course
A no pressure policy is available for participants that do not complete the course the first time. You are able to re-take the course at no extra cost if you attend and don't complete it.
Certification provided to participants that complete the course meet Saskatchewan workplace and academic requirements and are valid for 3 years.
CPR standards and techniques are provided by the International Liaison Committee on Resuscitation (ILCOR) and the American Heart Association (AHA).
Register today and learn valuable life saving skills.
What Will I Learn in a Standard First Aid Course?
Participants that enrol in Saskatchewan workplace approved standard first aid training with Saskatoon First Aid will learn about the following topics:
CPR for adult, child and infant victims (CPR level "C" option)
AED use for adult, child and infant victims (CPR level "C" option)
Heart Attacks
Angina
Stroke
Hyperventilation
Asthma
Pneumothorax
Deadly Bleeding
Facial Injuries
Burns
Choking
Unconscious victims
Spinal Injuries
Neck Injuries
Broken Bones and Fractures
Sprains and Strains
Hypothermia
Heat Stroke
Heat Exhaustion
Diabetic Emergencies
Dislocations
Heat Cramps
Seizures
Poisonings
These topics and many more are covered in the comprehensive two day standard first aid, CPR level "C" and AED course.
Are Re-Certifications Available?
Yes, participants that need to renew stand-alone CPR or standard first aid awards can do so by enrolling in a re-certification course which is cheaper and shorter than the original.
The Saskatoon First Aid Training Centre
Saskatoon First Aid training centers are outfitted with the latest training equipment, with spacious and well-maintained classrooms. The centers are easily accessible by public transportation, with free parking and restaurants within walking distance.
Did You Know?
Septic shock
One of the most dangerous complications of infection is septic shock. Sepsis happens when a simple infection such as a wound infection reaches the bloodstream. The immune system detects the infection and triggers inflammation all over the body, causing multi-organ failure and damage – this is called septic shock. If you have an infection, be sure to see a doctor and take your medication as prescribed.
Saskatoon First Aid is dedicated to providing trainees with the best learning experience for first aid, CPR, and AED training. You can find another training service provider with better offers. Enrol in a training course today!