Pediatric Advanced Life Support or PALS training programs are advanced programs for healthcare providers. PALS training is under the Advanced Life Support category of training. Our PALS programs are the best their respective cities in terms of quality and rates. Other providers offer very expensive training rates but not us. Our rates are very affordable with compromising on the quality of training our students receive.
You can enrol in a training program at any of the following providers: Los Angeles CPR, San Francisco CPR, Las Vegas CPR, Honolulu CPR, Seattle CPR, and Portland CPR.
About enrolling in a training program
Our providers want the most comfortable learning experience for our students. That said, there are four different ways to sign up for training. The easiest is by going to the provider webpage and using the online form. Similarly, students can use the contact details on the websites and send in their applications through e-mails. Telephone calls and walk-ins are likely encouraged by the staff, but please conduct your business during operating hours only.
Certificates and renewal
All of the programs at our providers are certification programs. They have certification exams at the end of each program that will certify a trainee once he or she passes it. Certificates or training credentials are valid for 24 months before they expire. They can be renewed as they approach expiry, through a re-certification class.
PALS has an available re-certification class that runs for 6 hours and 20 minutes or 8 hours and 20 minutes.
PALS training class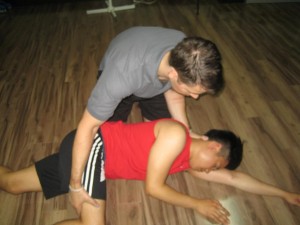 Compared to Basic Life Support programs, Advanced Life Support programs teach trainees not only basic skills but medical management of cardiac arrest. According to the AHA, there are five steps in the guidelines for giving CPR. These steps are called "links" and are part of the Chain of Survival. The links describe the steps taken from recognizing cardiac arrest to post-cardiac arrest care. BLS programs typically cover only links one to three, recognition to defibrillation but ALS programs cover all five.
PALS training is an ALS programs that teaches the management of pediatric victims of cardiac arrest. Pediatric victims are people younger than 18 years old. CPR for infants is very different from CPR for younger children, and even more different from CPR for adults. Pharmacology for pediatric patients are also very different because giving adult dosages to children are often fatal.
PALS training is 14 hours long, spread out of 2 days. The program includes:
Basic skills training – chest compressions and rescue breaths
Automated external defibrillation
Basic ECG use and reading skills
Pediatric pharmacology – drugs used during cardiac arrest and post-cardiac arrest care
Pediatric assessment – assessment is done from least invasive to most invasive procedures
Use of crash cart equipment such as BVMs (bag valve masks) and ET tubes
Certification
Certificates are valid all over the country, for a time period of two years. They can be renewed for an additional two years, as long as the credentials are still valid. Expired credentials cannot be renewed through a re-certification program and the rescuer will have to retake the training program.