Honolulu CPR is the best CPR training provider you will find in Hawaii. We have a variety of Basic and Advanced Life Support classes, more than any other provider in the city. There are also re-certification classes available for rescuers who want to renew their certificates. Not only is our selection of classes large and varied, it also very affordable. Unlike other training providers who charge expensive fees for quality training, Honolulu CPR offers the same quality classes for way less.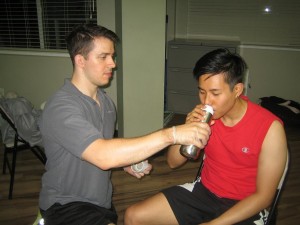 Details about signing up for training
If you need either BLS or ALS training credentials, you can take your pick out of the five programs at Honolulu CPR. Enrolment is hassle-free. Just visit the provider website and fill out the online form with your personal and program details. Applications can also be sent through e-mail or over the telephone. Walk-ins or signing up in person is still preferred by the Honolulu CPR staff.
Getting certified as a rescuer
Programs at Honolulu CPR are certification or credentialing courses. Once a student has the class and passed the post-test, he or she is given a training credential for that class. Credentials are valid for two years all over the US before they have to be renewed. Expired certificates cannot qualify for renewal, so the rescuer has to take the training program again instead of the re-certification class.
Training classes
Basic Life Support
Basic Life Support programs are offered to healthcare providers and the general public. There are three BLS programs available at Honolulu CPR. These programs teach trainees about the basics of giving CPR before medical help arrives. Focus is placed on the skills needed to get the victim stabilized or to return spontaneous circulation of blood in the body. Trainees practice chest compressions, rescue breaths, and defibrillation with high-end training equipment and mannequins. Lessons on basic first aid skills such as bleeding and choking management are included in the BLS curriculum.
Basic CPR and AED training – There are two kinds of basic CPR and AED: one for HCPs and one for the public. The course for the public is exactly four hours long while the one for HCPs is four and a half hours long. The curriculum is basically the same, teaching one-person CPR, first aid, and AED, but with varying levels of introduction between those familiar with healthcare terms and those who aren't.
Basic Life Support for HCPs – This is an HCP program that is four and a half hours long. It teaches one-person and two-person CPR along with the latest Basic Life Support guidelines from the American Heart Association.
Advanced Life Support is medical attention given to a victim after he or she has been stabilized with BLS skills. The basics are not focused anymore for these programs so students are required to have trained in BLS for HCPs and have a valid credential before taking an ALS class. Medical management includes equipment, diagnostics and medication.
There are only two kinds of ALS programs: Advanced Cardiac Life Support (adult patients) and Pediatric Advanced Life Support (pediatric patients). ACLS is 16 hours long and PALS is 14 hours long, both completed over 2 days.