Fact Checked
An increasing number of companies now demand that employees learn how to administer CPR. Those who're encountering this requirement for the first time might be confused as to how to start the process. One important piece of information that employees should know is that there are free CPR classes that they can avail of and they can get certified for. Having a CPR certification can give you an advantage at work and can also help you save lives.
Where to Find Free CPR Classes
American workplace approved. There are numerous workplace approved programs that offer free classes on first aid and CPR in different cities and communities all over the US. These classes are often held on weekends, are free of charge and are taught in different languages.
American Heart Association. This institution has started a lofty goal of training 1 million people through their free First Aid and CPR courses. Like its counterpart the workplace approved, one just needs to sign up, attend classes on the specified day and get their certification.
Community hospitals. Most local hospitals also provide free training in first aid and CPR during their programs which are taught by health care workers. Get in touch with your community's local hospital and inquire about classes they have scheduled.
 Local Health Department. Another institution that conducts free CPR training is a city's local Health Department. This government agency often coordinates with other organizations to conduct different trainings in the community. Drop by or call your city's Health Department and check if there are any free CPR classes that are currently being offered.
Check online. Employees can get certified online, regardless of whether they've never taken a class before or they just need to get re-certified. There are numerous CPR classes online that are free and can be taken at your convenience.
Once you've found the right class and schedule for you, it's now time to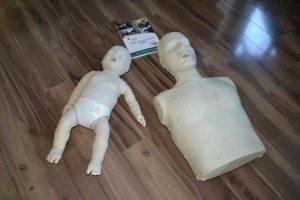 prepare for your classes. Most classes are held in a hospital, a fire station or a community center. And just like any regular class, CPR courses have a certain dynamic, flow and activities. A typical CPR class would have a reading part, visualization, practice and a test.
After the class has started and everyone has been assigned a seat, the CPR instructor would go over the manual with the students and discuss the CPR process, case studies and other details. Students would then watch videos that show simulations of emergency situations like a heart attack or an accident.
Next comes the practical part. Students would be given their own kit that includes gloves, mouth covers and wet wipes and practice with a CPR mannequin. The instructor would walk students through different scenarios, guiding and correcting them through the activity. After studying the manuals and videos and practicing, students will be given a written test. This is often graded on the spot and once passed, the student will receive a certification card. If the student unfortunately fails, the instructor would go over key points and give the student another test.