Fact Checked
Definition of a broken nose
Much as it sounds like, this type of injury is the result of blunt trauma to the face. It can be very painful and even, in rare cases, quite serious. Fortunately, it can be easily set and takes between 2 and 3 weeks to heal properly.
Identifying a broken nose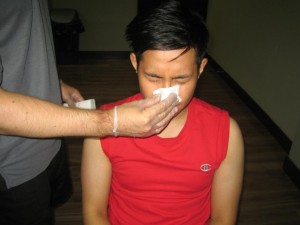 Trauma to the nose region of the face can cause a great deal of pain, but there are ways to identify a break to the nose. These include:
*Intense pain in the nose area.
*Black eyes that are a result of swelling around the fracture.
*Nosebleeds are typical with broken noses.
*The nose will take on a deformed appearance.
*The nose will appear red and swollen and the individual will experience difficulty breathing through it.
More often than not a broken nose can be treated at home, particularly if the septum is not ruptured. In serious cases it is necessary to see a doctor about re-setting the nose and deciding whether or not other measures should be taken.
Caring for a broken nose
As stated above it is possible to take care of a broken nose at home. These few words of advice can help when tending to the injury.
1) Use an ice-pack every few hours for a couple of days. Gently apply it to the wounded area for no longer than 15 minutes at a time. This can help to reduce the swelling.
2) To stop the bleeding lean forward, gently pinching the bridge of your nose for 15 minutes or as long as it takes to stop the flow. Do not lean back, as this will allow blood to flow down your throat.
3) Take painkillers, preferably the over counter variety, to ease the pain.
4) If your nose is deformed do not attempt to set it yourself, see a doctor and have it set correctly.
During the first few days after an injury refrain from wearing anything that might aggravate the injury, such as glasses, to allow for proper healing.
When medical intervention is needed
Most broken noses don't warrant any special attention, as they are quite common in sports and during any activity that involves high impact. But during those moments when the injury is particularly serious it is important to seek medical attention so that the situation doesn't worsen. The time to notify your doctor is usually when:
1) The swelling doesn't go down after two to three days.
2) The pain doesn't lessen or go away with painkillers.
3) Your nose still looks deformed.
4) You have frequent nosebleeds.
5) You experience a fever related to the injury.
Following a visit to the doctor, you will typically receive instructions on what activities to avoid and a recommendation for a specialist if needed.
Related Video On A Broken Nose