Fact Checked
Most corporates have now made CPR training as a mandatory course. The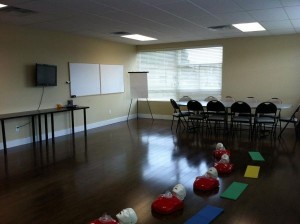 corporate world now understands the necessity of CPR courses during emergency conditions of its staff members.
This article will provide guidelines about the course details,the course cost and why CPR training is important even in the corporate sector.
CPR course details for corporate
The course duration of CPR courses for corporate is generally 4 to 5 hours long. During this course, the staff is divided into groups of 8 – 10 and basics are taught about cardiac arrests, seizures, strokes, shock and asthma. The basic training will help the staff to efficiently manage in emergency situations. All you need to provide these agencies are –a big room which can accommodate participants and give enough space for performing demos.
The CPR course is generally divided into ten parts which includes lessons about the –Vital signs (like consciousness and breathing patterns ) , Incident management , airway management, CPR, breathing problems, circulation problems, minor injuries, minimizing risk of infections, practice of keeping records about the medical history of every employee, awareness of current regulations. The course will also include a primary survey of the office or the institution and safe airway positioning.
The training is provided on-site. The lessons are taught through demonstrations and study material is provided. Once they complete the lessons, the officials are required to pass a certification test. Upon successful completion of the CPR course they are issued a certificate that is valid for two years. As kept mandatory by the regulations of workplace approved and other societies, the certificate needs to be renewed every two years.
Cost of CPR courses for corporate
The CPR course for corporate can cost $25 – $30 per head. Since, the instructor takes on-site classes; hence, the cost is slightly higher. While some online training courses are available that are free of cost, however, they are not as efficient as live classes.
Importance of CPR courses in the corporate sector
With growing health hazards and ailments everywhere, anybody may face an emergency situation at any time. So, it is better to get a hands-on training for effectively handling such situation. The corporate world has understood this fact and has now made this as a compulsory eligibility criterion for job enrollment. The CPR courses or training program is exclusively constructed for protecting yourself as well as your co-workers and for maintaining a safe environment. The government imposes time to time guidelines for companies to follow certain rules and regulations and mandatory CPR training is one amongst them. This one day course could give a chance to save a life of an individual.
Hence, corporate CPR courses are not only mandatory but also an essential procedure any human being should know. The skills of CPR need to be taught, learned and practiced. These live CPR courses are given by some of the well-trained instructors who give you the idea about the basics of performing CPR. You can help your office colleagues and since you are a CPR certificate holder, you may attempt CPR in case of emergency in your vicinity – home or anywhere.